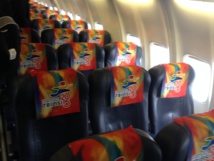 A 4 heures d'avion de Bruxelles, Tbilisi accueille le Festival Olympique de la Jeunesse Européen (FOJE) ou l'EYOF. Ce sont 85 jeunes athlètes qui concourront dans 8 disciplines, dont le basket féminin avec la Belgique.
"
After a flight of 4 hours we arrived at our destination: Tbilisi, Georgia. Already with the first step we took on the plane we felt the Olympic Atmosphere. There was a special sign on the plane and even the serving trays were covered with a special 'Tbilisi 2015' paper. But this was only a prelude for what was waiting for us in and outside the airport… Everything was covered in a Tbilisi 2015 dress: the people, the billboards, the busses, the taxi's have the plate number "EYOF",… Incredible! I let the girls explain it themselves...
" (Lieselotte Umans, team manager U16)
Premier match lundi contre la Tchéquie
Les U16 dispute ce Festival Olympique de la Jeunesse Européenne (FOJE/EYOF) en préparation aussi pour l'Euro U16 qui suivra, avec au programme lundi 27 juillet (18h30 locales, 16h30 belges) le premier match du groupe contre la Tchéquie, mardi 28 juillet (18h30 locales, 16h30 belges) contre la Turquie et mercredi 29 juillet (16h00 locales, 14h30 belges) contre la Géorgie. L'autre poule est composée de la France, la Russie, la Lettonie et la Hongrie. Les deux premiers de chaque groupe jouent les demi-finales (31 juillet). Finales le 1er août.

La Belgique disputera ensuite l'Euro U16 à Matosinhos, Portugal, du 13 au 23 août.
Quelques images de la cérémonie d'ouverture